Our Paralegal Clinic
The Centre for Human Rights and Rehabilitation (CHRR) operates a Paralegal clinic that is aimed at providing small scale legal advice and remedy to members of the community that it operates in.
These cases usually involve people who feel that their human rights have been violated in one way or the other. The services are offered for free.
Among the services the clinic offers include:
Counseling
Litigation
Referring of cases to relevant authorities and institutions
Notable cases that are usually handled at this clinic range from Gender Based Violence, labour, immigration issues, political violence, and land disputes.
July – December 2020 Cases Update
Cases Record
In the past six months CHRR received 131 cases, and it has been observed that the majority of the cases handled are brought by male complainants. Of these cases (45) have been resolved either through mediation or giving of legal advice. (7) Cases have been referred to Labour offices and Industrial Relations Court, (4) Deceased estate offices (administrator General), (4) victim support unit (VSU) police, (3) Child justice Court, (4) Human Rights Commission, (3) cases are pending for Legal Aid Bureau, (49) are still in progress, (5) land cases referred to different Traditional Authority and (1) case has been withdrawn by a client.
It has been observed that when employee clients have opened a case against their company with the office, there are a range of reactions that emanate from the letters that are sent summoning the company to the office. Majority of the companies (bosses) agree to come to the offices to be heard and have their issues resolved. On the other hand, some chose to ignore the summons; ask the employee to withdraw the case; or threaten the employees even more. In the rare situations where the company (bosses) has decided to ignore a number of orders, the paralegal officers even book an appointment to travel to their offices where the clients originate to have the cases heard even in presence of the boss and chiefs depending on the case.
Summary of cases handled in the period July-December 2020 
 

NO.

 

Nature of case

 

In Progress

Referred Cases
Advice Given
 

Case Closed

No. of Cases Received
1
Unlawful dismissal
19
7
6
16
48
2
Child Maintenance
0
7
2
1
10
3
Road accident
7
2
1
1
11
4
Deceased estate
0
4
0
0
4
5
Pension
1
3
1
0
5
6
Land dispute + Grabbing
12
8
4
7
31
7
Assault
3
0
1
0
4
8
Matrimonial
0
1
1
0
2
9
Witchcraft
2
0
0
0
2
10
Tenancy agreement
0
0
1
0
1
11
Malicious Damage
0
3
0
0
3
12
Murder
0
1
0
0
1
13
Chieftaincy
4
1
2
1
8
14
Rape
1
0
0
0
1
TOTAL
49
37
19
26
131
From above summary we have seen that most of the cases that we received in the past six months are labour cases and land disputes which shows that most of the companies here in Malawi they don't follow Employment Act, Labour Relations Act , Customary Land and Land act and other laws, more especially Security guard service companies and Traditional leaders.
Below is a pie chart showing the percentage of the cases that have been handled in the semi-annually by paralegal officers.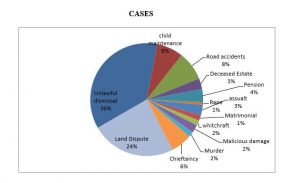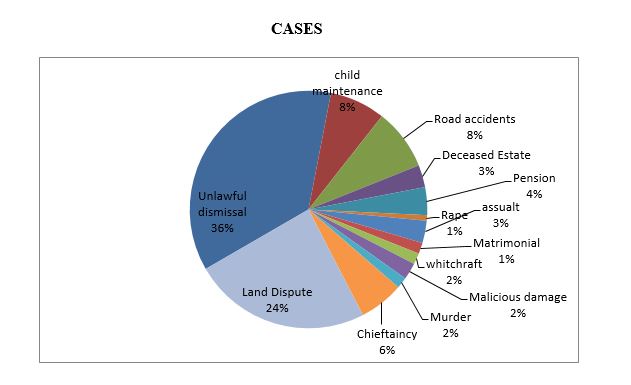 A majority of the clients expressed satisfaction with the assistance that they received through the paralegal services. It has been reported that apart from having their issues resolved amicably, they have also served resources which could have been used for transport and other legal aid expenses. Furthermore, in some cases where chiefs were involved, mainly Njewa and Kalolo chiefs, the traditional leaders applauded the office for having intervened in issues that have been outstanding in their courts for a long time. Furthermore, male clients who had been reluctant to come to CHRR offices after being summoned expressed satisfaction with the ways their issues were handled.
However, much as the office is appreciating the cordial working relationship with a majority of stakeholders in the justice delivery systems in different places of Lilongwe, there are some areas which need more collaboration and networking. The office is still finding challenges with some selected duty bearers such as the Police, Traditional Authorities(T/A),the Human Rights Commissioner and Labour Officers who are reportedly not giving the support that the office wants when it comes to handling cases. Often times, they have been delaying in handling complaints that have been forwarded to them.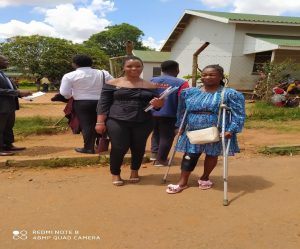 Lilongwe High Court of Malawi, paralegal office for CHRR (right) with Blessings Mpanje one of our clients (left)
Achievements
131 cases have been handled successfully which some have been refereed to respective offices.
File books have been established were complaints are filed for easy tracking
Mobile line has been created which clients are able to report complaints
Attending Court hearing was successful
We were able to Provide Para- legal services to clients that need legal assistance
Liaise with outside lawyers for cases that need to go to the court of law were successful.
Opening and registering cases were successful.
Challenges Faced Under the Paralegal Department
Financial Constraints: The legal department continue to face Financial constraints makes it difficult to carry out the work,
Following up with clients' remains a challenged as mobility is difficult.
Some of the cases lacked substantial evidence hence it has been difficult to get to the bottom of the issues. Some cases are beyond the mandate of the office which sometimes it has been hard to pursue
Lack of defined scope within the paralegal department which has led to mere issues being brought to office.
Lack of pro born lawyers to take the issues to court for trial has been a challenge.
Communication continues to hinder follow up of cases.
Conclusion
The clients assisted through the legal aid services that the office offers have expressed satisfaction on how their issues were resolved. It has been reported that the clients saved resources which they could have used to seek legal redress of their issues from the courts. Furthermore, the people have expressed that they feel welcome and encouraged to resolve their issues through CHRR offices because the cases are expedited other than in formal courts where they take considerably longer time to end. Nevertheless, the cases which were urgent have been referred to courts and police regardless of the fact that the concerned clients report that their cases take long to be processed at such avenues.
2017 Cases Update
The year 2017 once again registered milestone achievements in handling complaints. The paralegal department was patronized by clients that wanted human rights redress. In the year 2017, CHRR Handled 193. CHRR through this department was able to provide solutions for human rights violations. CHRR documented human rights abuses, tried to collect evidence, resolved some cases and referred others to relevant institutions for redress.
Out of the total of 193 cases, 31 were registered in Dowa, 69 in Lilongwe, 6 in Karonga while 87 were handled in Salima district. Many of the cases registered were Labour related followed by land disputes. Out of all the cases registered, 121 cases were resolved, 43 were referred and 29 are pending.
NATURE AND NUMBER OF CASES HANDLED
Following is a tabulation of the number and nature of cases handled by the paralegal department in the year, 2017
TYPES OF RIGHTS VIOLATED
Right to Fair Labour Practices
CHRR recorded a total of 73 labour cases. Most of these were from those that were informally employed and the rest were from formal employment. The recorded complaints were on unfair dismissal, unpaid wages and unremitted compensation.
Below is the summary of how the cases were handled:
| | | | | |
| --- | --- | --- | --- | --- |
| Type Of Case | Number Of Cases | Source Of Problem | Progress | Challenges |
| Unfair dismissal | 43 | Employers terminated contracts without proper grounds and without notice. | CHRR reached out to the employers. Some agreed to be in the wrong and for those who were uncooperative they were referred to court | Court cases take longer to conclude to the distress of many clients. |
| Child labour | 14 | Children were employed as cattle herders and house helps. | CHRR volunteers are raising awareness in their communities about human rights and how this practice infringes on human rights especially the right to education. | Animosity has developed between communities against  CBEs for speaking against child labour. |
| Unremitted pension | 3 | Clients complained to not have been given their pension despite making contributions | CHRR reached out to the employers | Employers wrote insurance companies for the remission of the 60% contribution |
| Unpaid Salary | 10 | Clients were not paid their dues | Cases referred to labour Office. In the end clients got their dues. | Some employees were dodgy which dragged the period for redress. |
| Compensation | 3 | Clients were injured at work, hence needed compensation. | CHRR referred clients to get their papers done at labour office | Compensation pending |
1. Civil Rights
CHRR received 37 cases on violation of different rights including right to education, right to life and right to health services.
Below is the table on how cases were handled.
| | | | | |
| --- | --- | --- | --- | --- |
| Type Of Case | Number of Cases | Source Of The Problem | Progress | Challenges |
| Right to Education | 5 | Children were forced to be doing manual labour instead of going to school | CHRR referred the cases to police | Delay by the police to intervene was dissatisfactory |
| Right to life | 1 | Client complained that his life was in danger. | Case was referred to the police. | Client seemed to have a mental disorder and was further referred to the hospital for psychiatric help. |
| Right to access health services | 19 | Complainants claimed that they were denied access to drugs while those that came after them were provided with. | This issue has been sorted by engaging health workers and sensitising them on universal health coverage | At first health workers thought the communities are being confrontational but now they understand health rights and cordial relationships have developed |
| Right to access justice | 12 | Clients complained that judgments are delayed. | CHRR advised them to be patient because at times judgments delay due to backlog of cases. | |
2.Right to Land
CHRR received 39 cases of this kind. Some clients complained that their land demarcations had been altered. For others chiefs had sold their land and others had their land confiscated by relations of their late husbands.
| | | | | |
| --- | --- | --- | --- | --- |
| Type Of Cases | Number of Cases | Source Of The Problem | Progress | Challenges |
| Land wangles | 35 | Clients complained that their land demarcations had been altered. Others had their land taken away relations of their late husband. | Client was advised to seek help from TA on the land issue. | |
| Chieftain wrangle | 4 | Clients complained that their chiefs crowned other people to be chiefs without procedures. | CHRR referred the cases to court and DC's offices in the districts. | |
3.Women's rights
Under women's rights violence against women was high. CHRR received 16 cases in this criterion. All the women alleged that their men were engaged in extra marital affairs and were ill-treating them.
| | | | | |
| --- | --- | --- | --- | --- |
| Type Of Case | Number of Cases | Source Of The Problem | Progress | Challenges |
| Lack of support | 13 | They complained that their husbands were having extra marital affairs and were not supporting the home. | The Cases were handled at the court and victim support unit. | Hearing delayed in court |
| Wife battering | 3 | Clients complained that their husbands beat them. | CHRR referred the cases to police | Cases were handled. |
4.Right to property
CHRR received 7 complaints of property grabbing. Clients alleged that their property had been grabbed by relations of their late husband.
| | | | | | |
| --- | --- | --- | --- | --- | --- |
| Type Of Case | Number of Cases | Source Of The Problem | Status Of Case | Progress | Challenges |
| Property Grabbing | 7 | Clients complained that their husbands' relatives' had taken properties from them. | CHRR referred cases  to court | Cases have been handled at the court. | |
Other cases that were handled
Kind of case
Number of cases registered
Progress
Unlawful detention by a financial lending Institution
2
Victims were unlawfully detained by Vision Fund for defaulting loan payment. Cases were referred to Salima Police.
Road Accident Compensation claims
2
The two cases involved road accidents victims who never got compensation. Cases were referred to Women's Legal Resources Centre.
Child Abduction / trafficking
2
Two girls from Futi Village were trafficked to Kasungu on the pretext that they would get married. These girls were 16 and 15 years of age respectively. The case was referred to police and the girls were rescued
Nyau Torture
1
A man was severely beaten by nyau. Case was referred to court and the man was compensated by cult elders
Common Assault
1
The complainant was beaten by the neighbors. CHHR referred it to court and the man was paid damages.
Thefts
6
Offenders were given suspended sentences by the magistrate without any compensation to the victims. CHRR using the judgment as evidence of theft, referred the matter back to court where the victims were compensated by using the restoration law.
Witchcraft
4
3 cases were handled and the fourth one was referred to police because there was an element of assault.
Using insulting language
3
All cases completed
Successes;
The coming in of more people seeking legal advice is indeed a milestone in the work of CHRR in the district.
More people even from outside Salima district come to seek legal assistance from the office and is one of the most trusted organization in terms of transparency accountability.
The office can also ably handle cases referred by the magistrate, an indicator of being nonpartisan in whatever the organization is doing.
Challenges;
The office receives more cases than it can handle, however much is that some are referred to stakeholders due to mobility problems. In turn It takes a lot of time before a case is completed.
The motor bicycle we have required servicing. Documentation is one key priority area of the project successes. There is a great need for having an office digital camera and a sound recorder.
Cases that we refer such as land cases and marriage by repute or co- habitation are not handled by the magistrate court due to new land Act and the Family Relations, Marriage and Divorce Act 2015. These are currently handled by the High Court, making it difficult for us to handle.
.Resources constraints made it difficult to monitor human rights violations in the district.
Limited community awareness on human rights makes difficult for the victims to report human rights abuses and even to give in evidence for fear of reprisals. As a result cases are not completed or are just abandoned.
Judicial Officers (the magistrate) take advantage on people's ignorance about the laws of Malawi as a result they deliberately make errors in law and pass a wrong judgement to the disadvantage of the poor and marginalized.