Addressing stigma and discrimination against women living with HIV and AIDS
Districts           :           Salima and Lilongwe
Goal
To achieve a reduction in practices which discriminate and violate the human rights of women living with HIV and AIDS and the elderly in the targeted districts of Salima and Lilongwe.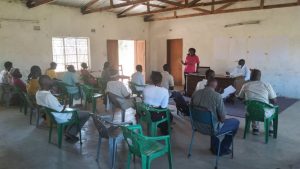 Objectives
To equip communities and community structures with relevant up-to-date information through capacity building and awareness-raising by December 2020.
To strengthen economic empowerment of women living with HIV and AIDS through linking them with the relevant stakeholders by December 2020.
To enhance coordination and collaboration with district structures on women living with HIV and AIDS human rights issues by December 2020.
Impact registered
CHRR Community Based Educators continue to raise awareness amongst community members on critical human rights issues striving towards protection and promotion of human rights.
Relevant duty bearers within the communities have become more responsive in hearing and addressing community concerns.
Project beneficiaries are now taking part in disseminating information on HIV and AIDS prevention.
Inclusion of men in support groups has increased awareness and curiosity by men to get tested, in order to know their status.